FEEDING THE WORLD
WITHOUT COSTING THE EARTH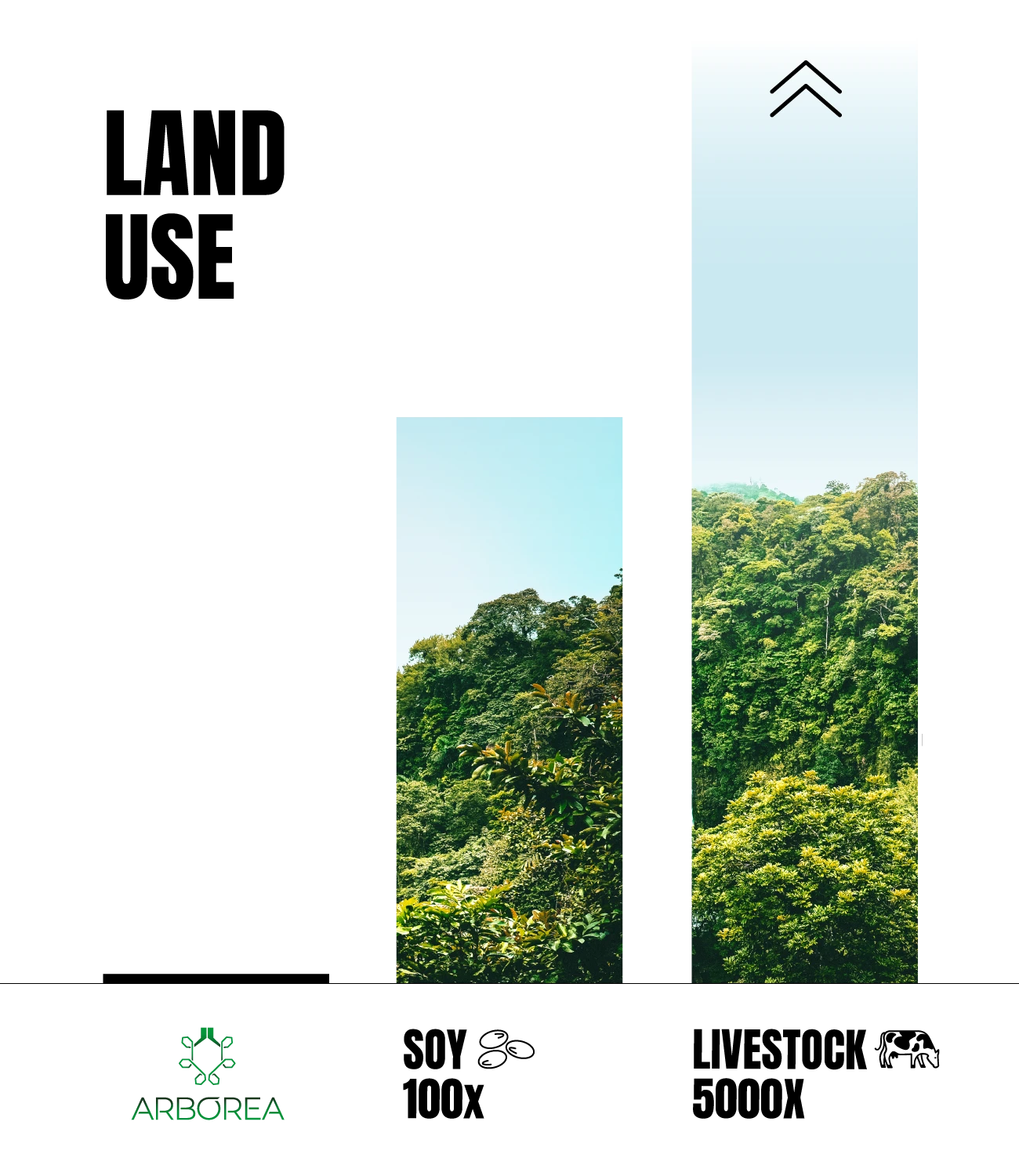 NO
BIODIVERSITY LOSS
Arborea's Biosolar Leaf ™ is a radically more productive source of protein than growing soy or raising livestock. We would only need a small area of non-fertile land, equivalent to the size of the New York Metropolitan Area, to meet the demand for protein predicted by 2050.
Our system's ability to produce more protein in a given area than any other type of food production, combined with the fact that it doesn't require agricultural land-use, means we could enable food production to give land back to nature.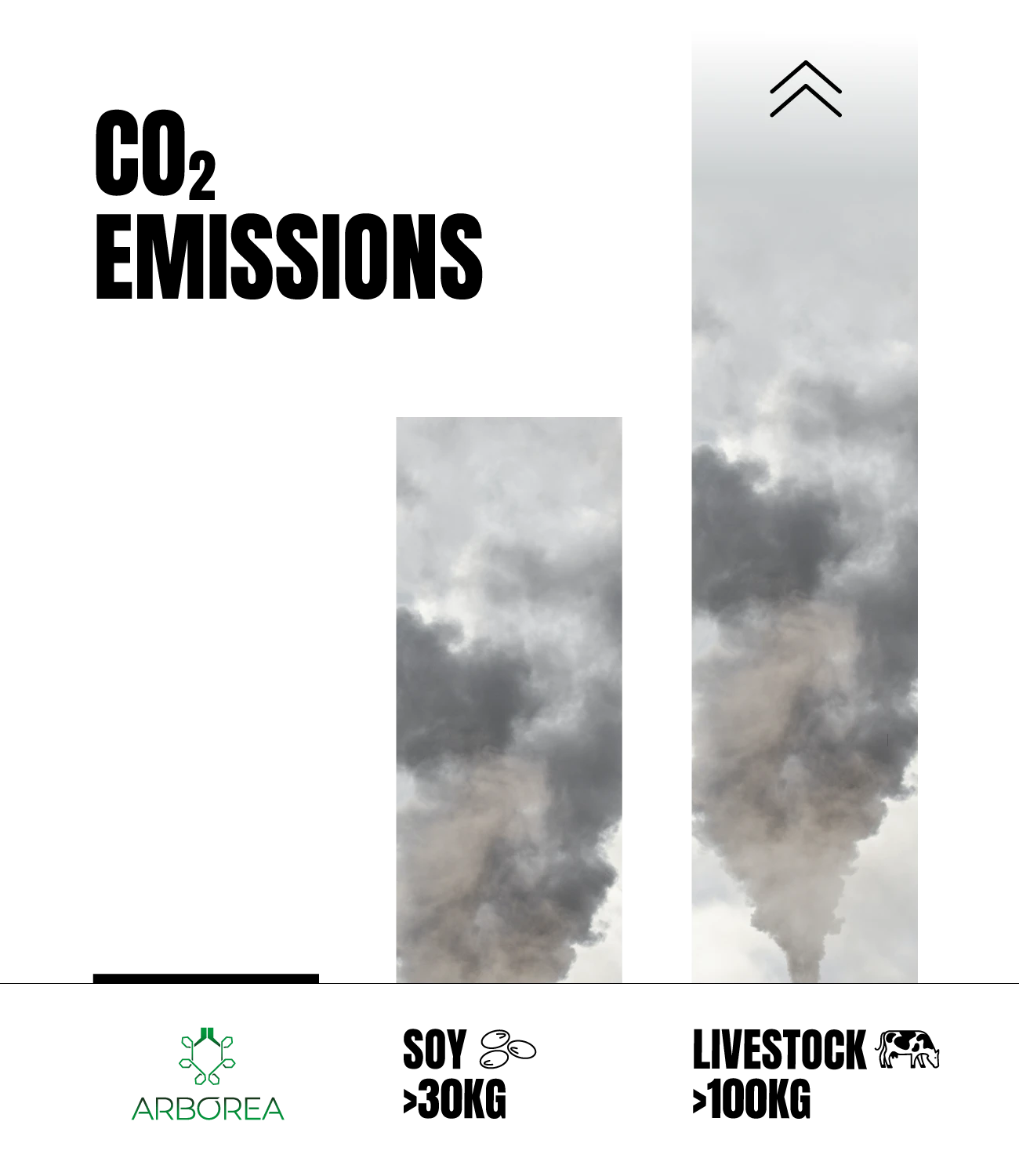 NET
ZERO
Just like photosynthesis in nature, the Biosolar Leaf™ sequesters CO2 and uses sunlight as unlimited feedstocks; boosting the cultivation of microscopic plants while releasing breathable oxygen.
This ensures our natural products are extracted from the only carbon-neutral plant biomass on the market. The Biosolar Leaf™ can sequester CO2 directly from the air or from CO2-producing processes; without the costly compression required by many other cultivation technologies.
NO
EUTROPHICATION
Our Biosolar Leaf™ cultivation system is also highly water-efficient, minimizing the freshwater usage usually associated with food production.
This aids water security by helping to balance the difference between freshwater withdrawals and replenishment.
Arborea's Biosolar Leaf™ ensures that there are no nutrient runoffs; which can build up in lakes, rivers and coastal waters, affecting their natural ecosystems.
MOST
SUSTAINABLE
WAY TO
PRODUCE
INGREDIENTS
CO2 + PHOTOSYNTHESIS =
VALUABLE
INGREDIENTS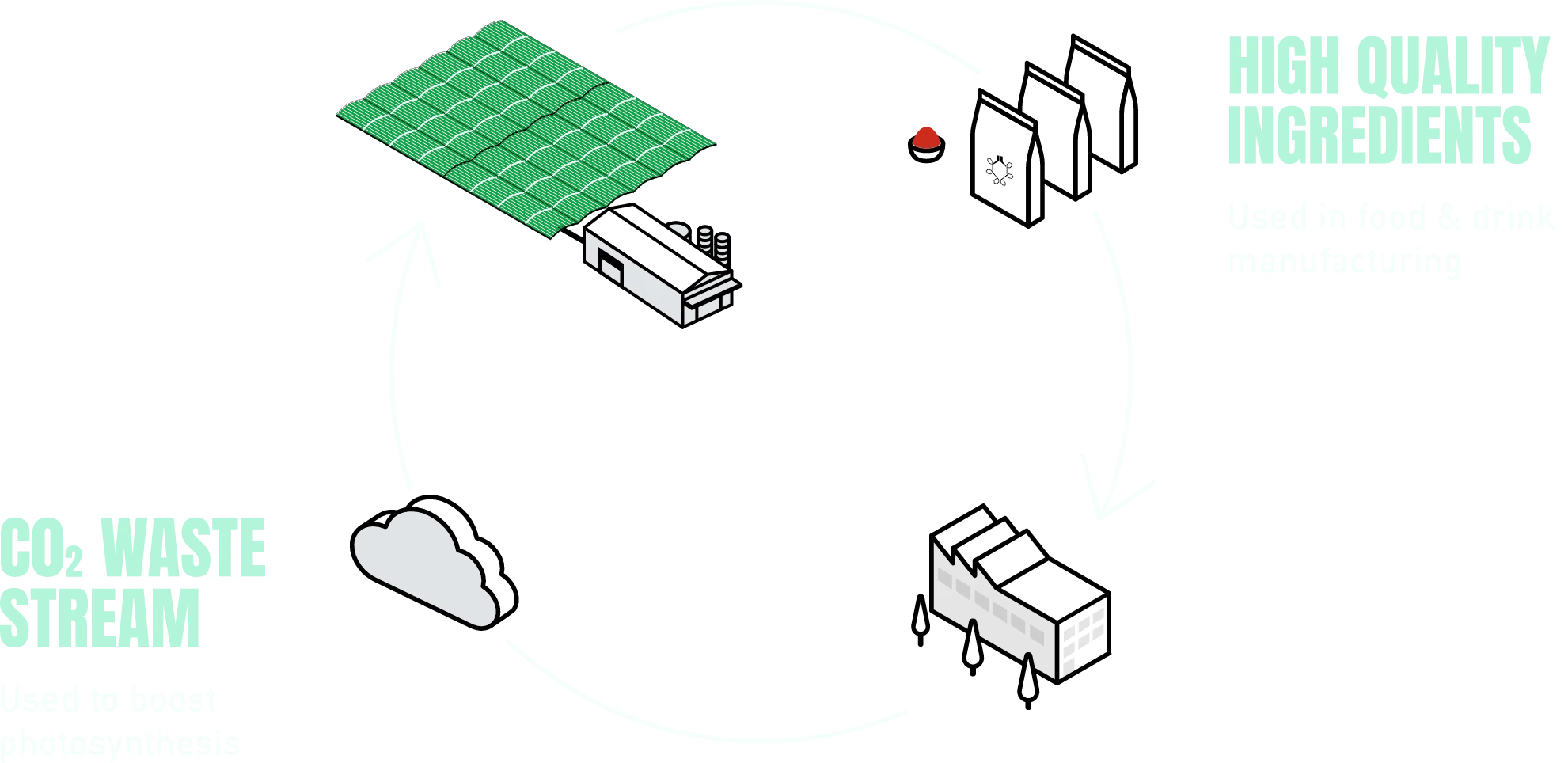 Arborea's Biosolar Leaf ™ cultivation system has the unique ability to sequester CO2 at atmospheric pressure without the need for compression or pressurization.
In fact, 100 times more CO2 is sequestered and O2 is released by one acre of our Biosolar Leaf™ units than an average forest of the same size.
As our system is modular and soilless it can be sited near CO2 sources or food production, on rooftops or barren land.
Contact us to find out more about a CO2 sequestration partnership.
MAJOR
PARTNER
TESTIMONIALS
"Arborea's technology
can sequester the CO2
no one can"
"We need twice the
current global supply"
"Your products
are better performing
than ours"
"We pledge
for net-zero proteins"
"Arborea's platform
can produce the ingredients
we need to satisfy our
customers' desires"
LET'S WORK
Together
Join the growing number of major industry players who are collaborating with us to:
• Create new sustainable, nutritious and tasty products
• Sequester CO2
• Break the vicious cycle between meeting the increasing demand for food and biodiversity loss